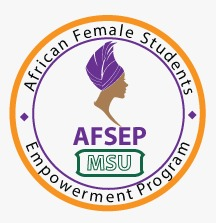 The African Female Student Empowerment Program was founded in 2016 by three MSU African female faculty from three different Units with the support of the African Studies Center: Damaris Choti, Assistant to the Director, African Studies Center; Sheba Onchiri, Academic Advisor, Department of Chemistry; Ruth Mbabazi, Research Scientist, World Technology Access Program, College of Agriculture and Natural Resources.
AFSEP was initiated on realization that while MSU offers a variety of student services designed to meet the needs of international students, few African female students took the initiative to seek and utilize these services. Besides some students had expressed challenges that include building professional networks, lack of motivation to take up leadership roles and issues to do with navigating dating and romantic relationships in a foreign culture - challenges that can be partially attributed to the gendered socialization patterns in communities from which these students come.
AFSEP is, therefore, a support program that provides space where African female students at MSU come together to build comradeship, receive mentorship and engage in activities that will foster their self-esteem and develop their leadership and professional expertise.
Activities
Workshops and monthly sessions where invited speakers familiar with gender issues in Africa facilitate discussions on varied topics including self-esteem, professional networking, leadership training and intimate relationships.
Mentorship sessions that include professional peer mentorship trainings.
Social gatherings intended to promote a sense of community among the female students.
Contact
Connect